I love my ferrets. I have 3 of them, all of which were adopted. I have had ferrets for years, and used to have 3 little females: Alex, Serina, and Abby, but they have all passed on. Before Alex got sick I adopted Jack from a friend, and he is such a sweetie. But when Alex died I thought Jack needed a playmate... so along came Funnyman and Deuce. Here are some pics of my ferret boys: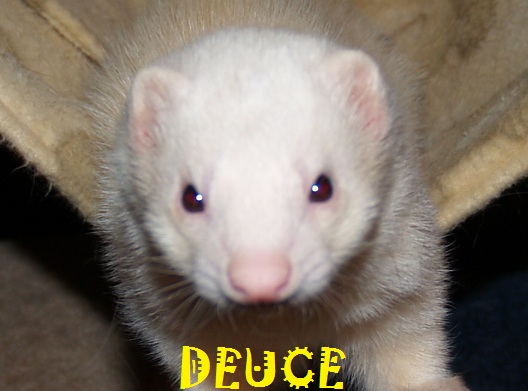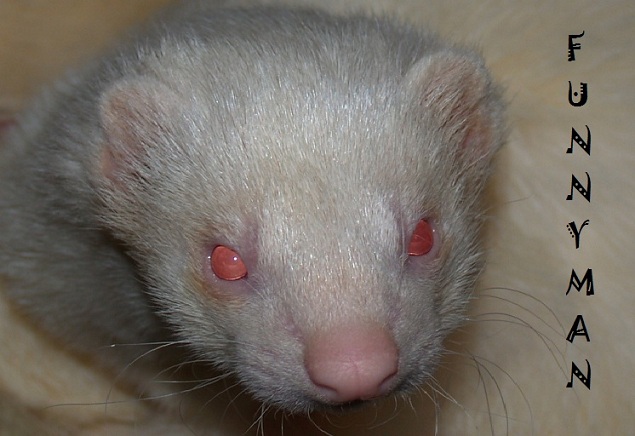 Playground Bully




Posts

: 447


Join date

: 2010-01-21


Age

: 34


Location

: Lost in Cyberspace



Well, they are ferrets! :D
Awwwwww! Thanks for the pics Cheryl! They are so cute.




Posts

: 329


Join date

: 2010-01-21


Age

: 106


Location

: South Mississippi



Man i wish i had a little cute ferret too!



Posts

: 6


Join date

: 2010-10-01



Ferrets are great, but they can break your heart. Jack had to be euthanized about a month ago. He becamed "plugged" and could not pee. It is a condition that is more common male cats, but male ferrets can also suffer from it. They have a very small urethra. This can be come obstructed with crystals in the urine. When this happens it requires using a urianry cathater to resolve the obstruction, but the animal needs to be under anesthesia. Poor Jack would not have survived this, so I had to have him put down. His body was already being poisoned by the urine backing up into his kidneys causing them the fail an unable to filter his urine. It is so hard to see the become sick like that, especially when there really is nothing you can do.

_________________
So don't make me tear it up,
You know I don't give a fuck,
And I ain't here to shake things up,
But I got my hand on my gun!
i also love ferrets, they are win pets.



Posts

: 11


Join date

: 2010-10-30


Age

: 37




---
Permissions in this forum:
You
cannot
reply to topics in this forum